Mom With a Dot Com is celebrating her one year blog anniversary, so a group of amazing bloggers got together to give you a chance to win some amazing prizes!  Don't you love partie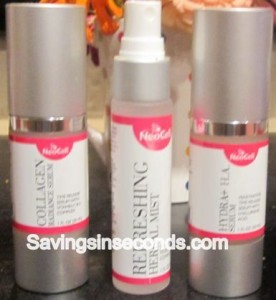 s like that?!  The Better Late Than Never event begins September 1st and ends September 9th.  Hop around, I hope you will find some prizes that you love – maybe you will even win one! Each giveaway will have a prize valued at $25 or more!
Savings in Seconds has two sponsors to celebrate today.
The first is NeoCell.  This is a new anti-aging product that smells really good and is very effective.  I'm 37 years old (eek!) and needed to start thinking about using anti-aging products.   You can read my review of these products to find out what I thought of them.  NeoCell is offering one reader a $65 SRP prize package.   The giveaway is open to US/CAN.
The second sponsor is Care4hire.  They offer a special service to those who need to find safe, caring babysitters and other home help service providers.   Care4hire connects you with an extensive online database to help you find the person who will best fit in with your family to serve your needs.  One winner will receive a gift certificate to Care4hire, which will allow the winner one month to login and contact caregivers. This giveaway is open to US/CAN.
Meanwhile, check out these suggestions for finding the right babysitter.  These tips were provided by Care4hire.
Determining what job tasks you want the babysitter to perform (just childcare? feeding? house cleaning? transporting? administering medications?)
Determining what traits and skills you will seek in a babysitter (based on the job tasks above)
Determining what you are willing to pay a babysitter (usually expressed in dollars per hour worked)
Determining what you are willing to do for your babysitter (transporting her to/from your house, allowing her to snack on items in your fridge, etc.)
Determining your preferred method of recruitment (word of mouth, advertising on a school campus, conducting an on-line search, etc.)
Determining your timeline (by what date do you wish or need to have a babysitter hired?)
Preparing a list of interview questions to ask prospective babysitters
Begin recruitment
Select the candidates that possess the traits and skills you seek . . . schedule those candidates for interviews, and send polite rejection letters to the non-selected candidates
Interview the selected candidates
Narrow the pool of candidates to two or three that are best qualified for the job
Schedule those two or three candidates for a second/final interview . . . plan to have your child present at that second interview to observe interaction between child and babysitter and, where age appropriate, allow the child input in the selection of his/her babysitter
Interview the selected candidates and get signed authorizations to perform background checks
Perform background checks and check references on the selected candidates
Narrow the pool of candidates to one candidate, offer the job to that candidate, and schedule a start date
Send polite rejection letters to the subsequently non-selected candidates
Orient the babysitter to the job by using the job description you've prepared
Train the babysitter to perform to your expectations
Observe the babysitter's performance and provide praise and redirection as appropriate
Pay the babysitter as agreed at the time of hire
Have regular communication with the babysitter about the expectations that you have of each other, how those expectations are being met (or are not being met), what questions or feedback need to be addressed, etc.

By proceeding as indicated above, you can set the stage for successfully employing a babysitter that will love your child and attend to him/her according to your wishes.
Ready to enter?