Disclosure: I will receive a sample of the Make Art Every Day planner. Post contains affiliate links; opinions shared are mine.
There's always something to keep up with around here. Are you in the same boat?  For creative minds, doodles and sketches might seem as natural as breathing, but it's hard to find time to do those things.  Check out the Make Art Every Day planner!  It's great for those who like a mental challenge as well as building artistic skills.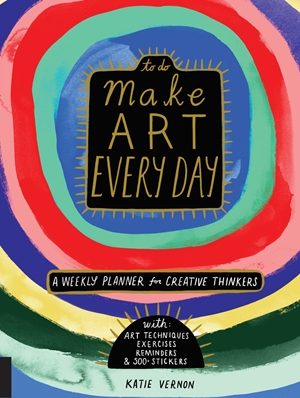 Complete with stickers, art technique suggestions, and weekly format calendar, the Make Art Every Day planner is a great way to introduce some creativity to 2018.  I'm so excited to give this to my daughter. She loves to improve her sketching skills and has asked for new art supplies to experiment with.  This planner will help her stay organized, too.
In a world that's increasingly more digital, it's kind of a relief to enjoy the creature comfort of paper planners.  Each page has a beautiful airbrushed quality or colorful sketch.  The layout of each week's spread is slightly different, which is nice for a change of pace.  There are some self-love reminders, too, such as "Take time to relax."  My composition notebook slash bullet journal doesn't do that, does yours?  It's nice to have a reminder to make art from daily doodles and musings.
What's your favorite feature of this planner?
Thanks to Quarto for sending us this planner.