Disclosure: I received this book and bracelet from the publisher. Post contains affiliate links; opinions shared are mine.
Are you a fan of adult coloring books?  This new copy from noted artist Amrita Sen features ancient India-themed Hindu love story pages with text.  The blackline pages are so intricate that it's sure to provide hours of coloring enjoyment.  It would make a beautiful gift for a friend who enjoys world travels!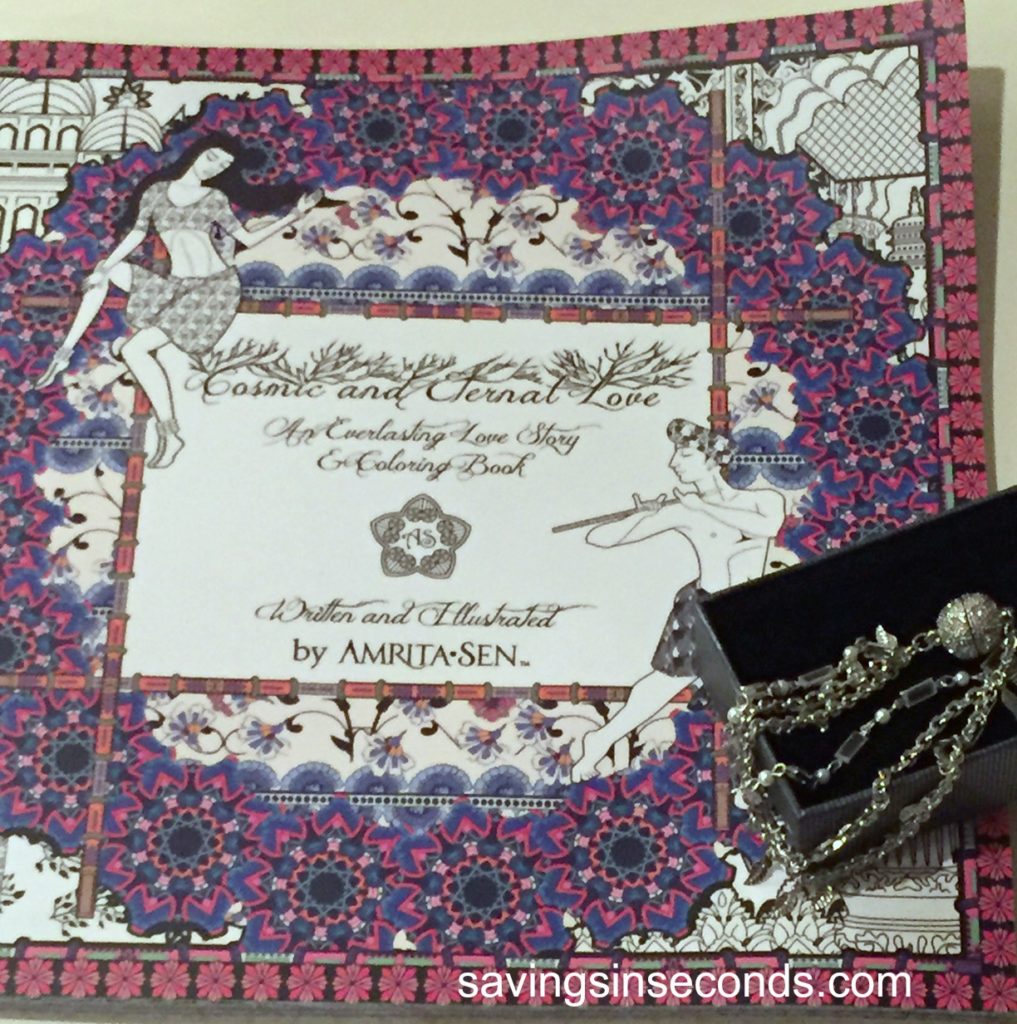 Even better, the Amirta Sen collection features many coordinating treasures.    Did you notice that little black box in the bottom right corner of the photo?  It's a handcrafted bracelet designed by Sen herself.  The silver-plated bracelet has a magnetic globe clasp, tiny charms, and the sweetest Bollywood-style jewels that look like seed pearls.  I adore it.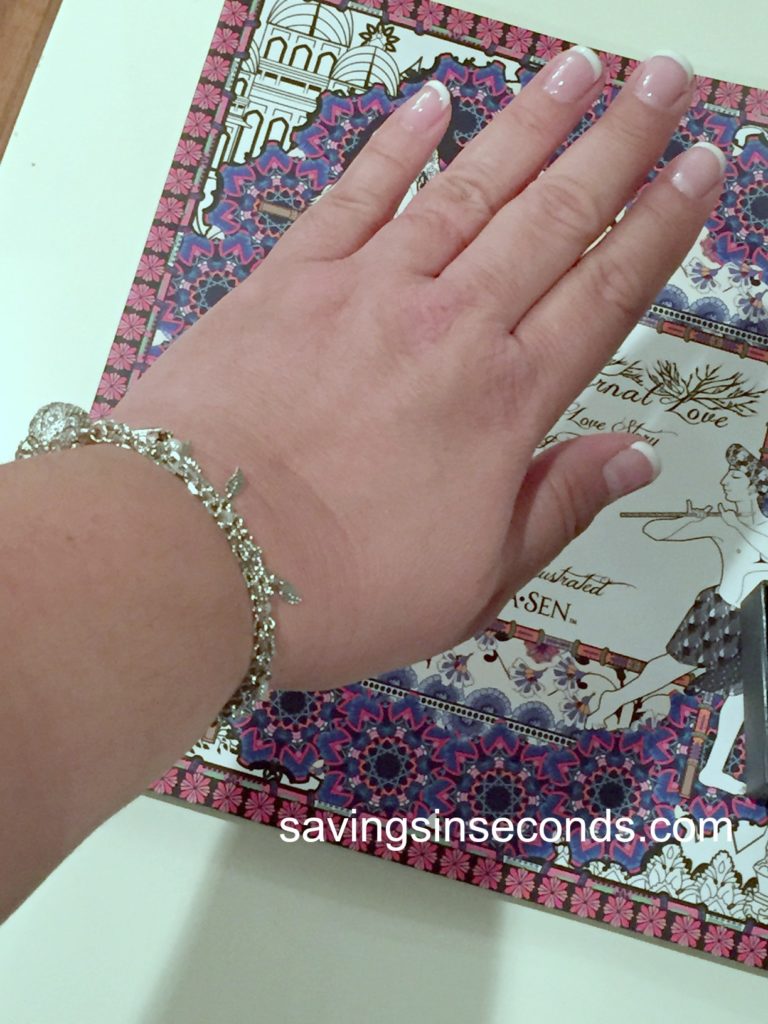 As for coloring book, you'll find yourself lost in the enchanting story of Radha and Krishna.  It's not a story that I was familiar with, so I appreciated that the text wasn't too difficult to follow.  Each page is bordered with meticulously drawn images.  Floral motifs, calligraphy, and sweeping designs make this book a coloring fan's dream!  The accompanying CD (which I did not receive) contains 12 original musical pieces composed by Sen herself.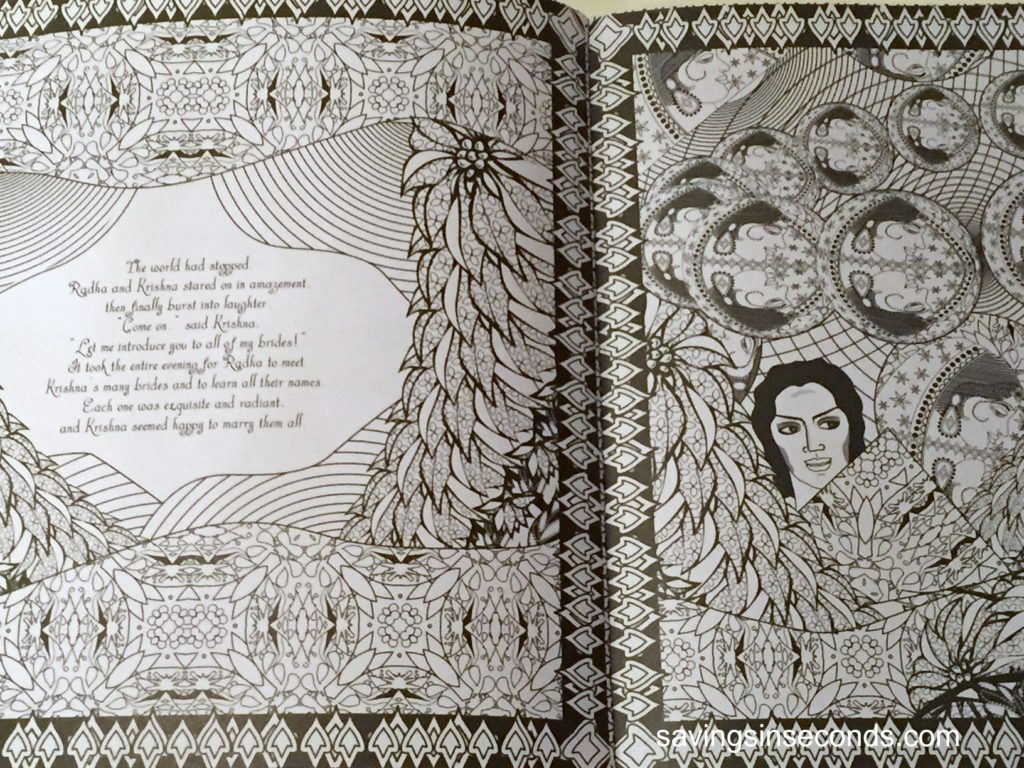 I love that the distinctive design coordinates with other office pieces.  Paper products are my downfall!  The Amrita Sen collection includes a notebook, agenda, sticky notes, and colored pencils.  Look for these at Barnes and Noble or Dillard's.
Thanks to the publisher for sending me this book.
---
Calligraphy for Kids giveaway bonus word list
2/6  art
2/7  fun
2/8  playful
2/9  flourish
2/10  signature
2/11  autograph
2/12  personalize
2/13  creative
2/14  invitations
2/15   cards
2/16  thank you 
2/17   scrapbook
2/18   technique
2/19  hobby
2/20  beautiful