Disclosure: I received this book free for the blog tour. Opinions shared are mine.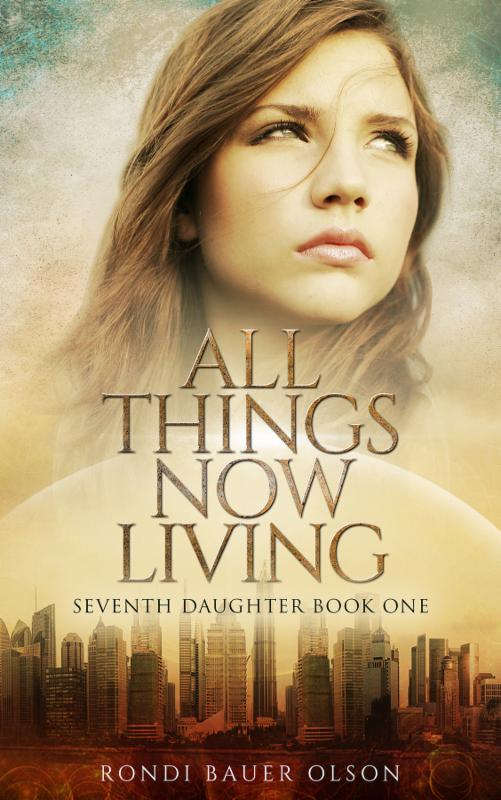 Dystopian young adult fiction is probably my favorite genre.  It's typically full of action, there are multi-faceted characters that immediately draw the reader in, and they tend to be series books rather than one-off wonders.  All Things Now Living has much potential as the first Seventh Daughter title.  I'm excited to see where this series is headed. 
Though I really enjoyed All Things Now Living, by page 40 I already felt like I'd missed something.  I even thumbed back to the first few pages to see if there was a prologue I'd missed somehow.  There seemed to be a backstory that went over my head, and it took me a while to get a good grasp on what was happening.  Probably a 0.5 novella would fix me right up, but I don't think a typical teen reader would take the time to try to figure things out.  In my world, teenagers enjoy complex stories that make sense. They like a good mystery, but require enough valid clues to piece together to make the book worthwhile.  Otherwise, they'll toss the book with the other reading material that doesn't make the cut.  I think the author has a good story premise here; it just needs to be reshaped to define those intangible parts that don't come together.  I'd definitely read the next book to see what happens.
While on a scavenging trip with her father, Amy is accidentally trapped in New Lithisle in Rondi Bauer Olson's All Things Now Living. At first her only goal is to escape, but when she meets Daniel, a New Lithisle boy, she begins to question how less-than-human the people of New Lithisle are. Amy's feelings grow even more conflicted when she learns she didn't end up in New Lithisle by mistake. Her father is secretly a sympathizer. Time is running short and Amy has to decide if she will bring the computer program her father wrote to his contact or save herself. Installing the program could prevent the dome's collapse, but if Amy doesn't find her father's contact in time, she'll die, along with everyone else.
Stay up all night reading this thrilling new book from Rondi and enter to win a Kindle Fire!
One grand prize winner will receive:
A copy of All Things Now Living
A Kindle Fire
Enter today by clicking the icon below, but hurry! The giveaway ends on December 14. The winner will be announced December 15 on the Litfuse blog.