Disclosure: I received product samples. Opinions shared here are 100% mine.
Now that Christmas is officially over, it's time for me to focus on 2015 shopping.  My kids have their birthdays in the spring. Work is very busy in the spring so I like to get their birthday shopping finished well in advance.  Finding discounts and clearance items at the after-Christmas sales is fun and budget-friendly.  I stash away the gifts so that I'm prepared when an occasion arises!  One item I will be looking for is the Markwin's Holiday Stocking Stuffers that are available at Walmart.  These affordable sets include beauty products in bright colors that teens will love.  We received the #FLASHMOB URBAN NAILS collection.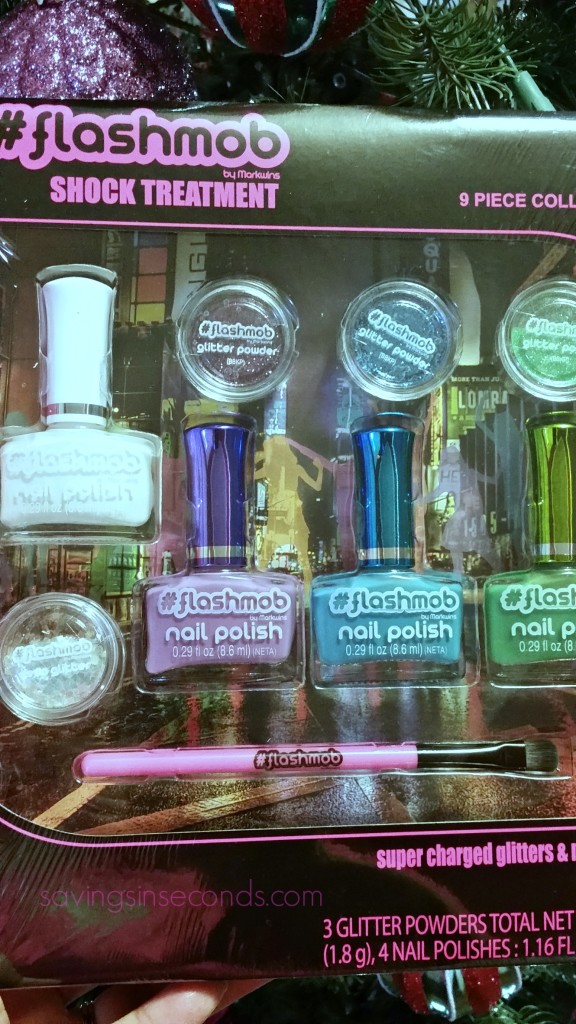 I hung the sweet gift box from the tree; its rich colors blended in so prettily with our ornaments!  If your box is given past Christmas, no biggie.  Your hard-to-shop-for teen will love it just the same.  I like the way the polish is packaged, with the coordinating colors placed together and the brush on the bottom.  The glittery powder can be applied post-paint or even left off for a completely different look. The only thing I didn't like about this set was that it's made in China.  I'd feel better about it if the formulas were produced here in the US where our safety standards are more closely followed.
If you don't have a girly girl in your life, why not gift this to a local women's shelter?  There will be girls there who long to feel pretty and pampered.  The #flashmob sets include lipstick and eyeshadow products from Markwins, too.  Even if it's after Christmas, stocking stuffers can still bring a smile to someone special!