Disclosure: I received this movie to review. Opinions shared are mine.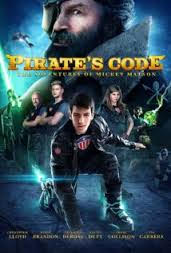 Having a family movie night might be rather difficult if you're searching for clean, wholesome films that will keep the interest of your younger teens.  Pirate's Code is a good compromise.  Filled with action, suspense, and the smallest bit of romantic tension, this movie is likely to become a favorite for the whole family! 
Mickey Matson, the main character, is a likable teen who needs a healthy dose of self-esteem.  How many of us can relate to that?  I wasn't familiar with the happenings of the first Mickey Matson movie, but it's pretty easy to catch up.  When Mickey encounters a high-stress situation, it's interesting to see how he handles it!  Mickey's friend Sully is a delight, and a true Barnabas character in the movie.  I love the way the teens handle their relationship with older generations.  The movie has an action-packed theme with plenty of feel good moments.  I'd suggest watching the first movie first, so that you have the whole background story!
There are some borderline violent scenes in the movie, so I don't recommend it for really young children. I'd allow my 6 year old son to watch it, but only if it didn't scare him. Also, there were a few scenes that had some insulting words.  While that is somewhat necessary when villains are involved (think: pirates!!), it's still a point to consider. For those kids who are old enough to differentiate between a movie and real life, it's great.   Overall, I'd say that this movie is great for keeping in the youth group movie library!  You can purchase your copy here.

What movies do you recommend for Family Movie Night?