Disclosure: I received this book to review. The post contains affiliate links; opinions shared are mine.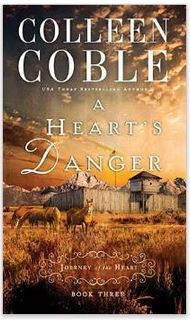 I read this book in a hurry because I wanted to send it off in a package for my grandmother.  I love to send her books, which helps her to pass the days and keep her mind sharp. I earn free books through Tyndale Rewards (join here — it's free!) and send her my review books. She loves these sweet Christian romance novels, and this one will sure spice things up a bit!  A Heart's Danger
 gives us a more lively view of the Native American tribes that surround the Campbell clan in this series.  While the previous two books in the Journey of the Heart series  had fairly tame storylines, this one was powerfully dark.  In fact, the mood is even reflected in this stunning book cover! 
In A Heart's Danger, we get a truer look at the inside of Ben Croftner's twisted mind.  It's almost as if Colleen Coble has painted invisible horns on his head, while attaching white wings to Rand's back.  While it's clear how Ben and Jessica's plan would unfold, it still seemed as though the characters were blind to some aspects of Ben's persona.  I wondered if it might be due to the lack of law enforcement in that time and place.  The interesting interactions between the white and Indian cultures kept me reading.  The last page of this book, though, was the true reward at the end of these three months of reading.  If you've been following the rest of the Journey of the Heart series, do yourself a favor and order this book today!!!