Disclosure: I received this book in exchange for an honest review. Post contains affiliate links; opinions shared are mine.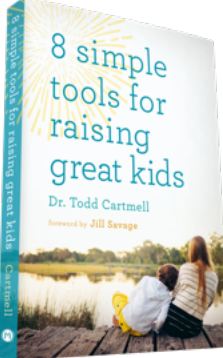 You've probably heard the wistful musings of a frazzled parent…."I wish the kids came with a parenting manual."  It seems like there should be at least a Parenting for Dummies book to accompany the ubiquitous blue-and-pink striped cap and cotton elephant receiving blanket in the hospital, right?  While it's not an official manual, 8 Simple Tools for Raising Great Kids comes pretty close. 
When Dr. Todd Cartmell says that these tools are simple, he means it.  The suggestions are straightforward, easy to follow, and completely do-able.  The primary thing I noticed about each chapter was that the responsibility of the parent's actions fell on the adult, not the child.  While I'm definitely a proponent for building responsibility in kids, I truly believe that the examples are set by parents.  In this book, respect is not conditional.  Parents aren't given an out; in other words, Dr. Todd doesn't excuse bad adult behavior by saying, "If your child does this, then…."  Nope. He explains in no-nonsense terms how a parent should behave.  Some parents might find this to be insulting, even condescending.  If so, maybe that's a time for some personal reflection.  If you can't take a little advice for your own behavior, how can you expect your kids to do so?  As mentioned before, parenting is a hard job.  If it were easy, we wouldn't have so many dropouts.
The book 8 Simple Tools for Raising Great Kids could easily be used as a devotional.  While it's not brimming with scriptural references, there's an underlying foundation of biblical principles behind the message.  The chapters are short and easy to read, and thought provoking questions are listed at the end of each "tool."  Why not give it a try?  Use code GREATKIDS16 at checkout to get a 50% discount (good April 15- May 15, 2016).  With purchase, you'll also have access to several free downloads.  Share this with your spouse, or a friend, to encourage each other to become a stronger family!