Disclosure: I received this DVD to review. The post contains affiliate links; opinions shared here are 100% mine.
Normally this thread centers around books that you should read this weekend, but today I want to share an amazing movie with you. Coming out on February 10, 2015, you can watch 23 Blast
 on Amazon instant video. Consider getting it as a Valentine's Day gift, because it's a movie you'll likely keep as a favorite.  We immediately liked the movie because of the opening scenes; Pee Wee sports and Fred Thompson rank right up there with our favorites! It also won me over right away because the story takes place in Corbin, KY, where I've traveled dozens of times on my way to visit my mom. Soon the rest of this true story caught fire in our hearts.  It's a movie that I'll suggest to people time and again.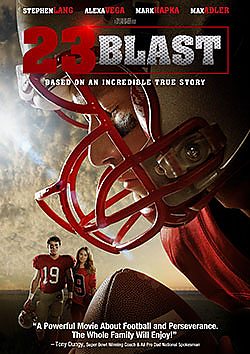 The beginning of 23 Blast might make you relive your high school years; who can forget the teenage cheesiness of football games and social cliques? As the story goes on, you'll likely recognize some familiar themes from your own life.  Have you learned to trust someone with your life? Has love demonstrated itself through actions?  Did you deepen your relationship with some friends, while others moved out of your life?   Messages about leadership, hope, enduring friendship, and hard work are prevalent through the movie. It's perfect for just about any movie moment you want to have. My husband and I watched it together, and it makes a great date night flick. You could also show it to the youth group or teen Bible study.  Why not share it with your family?    If you're looking for a great movie to watch this weekend, check out 23 Blast.
FlyBy Promotions is offering one lucky reader the chance to win this DVD.  To enter, visit the giveaway form below.  The contest is open to US/CAN readers ages 18+. Void where prohibited by law. Good luck!




Thanks to FlyBy for sending me this movie.
---
SAME KIND OF DIFFERENT AS ME  bonus words
10/7   true story
10/8   unforgettable
10/9    homeless man
10/10   guided by faith
10/11    inner-city
10/12    rescue mission
10/13    serving
10/14    unity
10/15   friendship
10/16   reconciliation