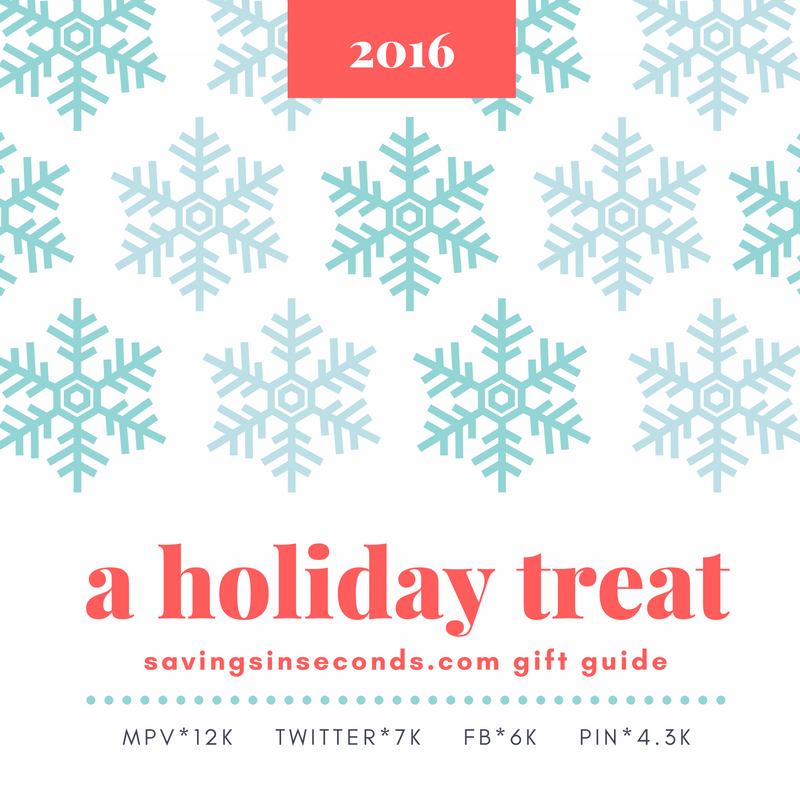 Savings in Seconds is compiling a 2016 Holiday Gift Guide filled with shopping ideas for everyone on your Christmas list. If you'd like me to consider your product, please email Dede  at Savings in Seconds .  Please write "Holiday Gift Guide" in the subject line.
Wondering WHY you should participate in our Holiday Gift Guide?  Read the comments from some of our clients:
"How fun to have worked with you on this."
"We've loved working with you."
"Loved your post and how you write! Thanks for your work…"
"I loved your personal stories and photos…. can tell you put a lot of effort into the post and testing the products. Love it!"
"I loved your past features of our jewelry and would very much like to have you in partnership again."
"The mention you gave us on your web site was just fantastic.  So real, authentic . . . and positive.  Thank you so much!"
"We really appreciate you taking the time and energy to write up such a wonderful review. The traffic to our online store is greatly appreciated."
I'm a National Board Certified Teacher with 19 years of classroom experience.  Your product will be considered from my multiple perspectives — a mom, wife, housekeeper, and teacher.
Most of my readers are women, ages 25-45, although the male readership is a strong presence!  Most of the Savings in Seconds audience represents parents with careers.
Posts are cross-promoted on social media.  Twitter is my strongest media outlet, earning 48.8K impressions and 650+ retweets last month.
The gift guide will start on October 25 and run through December 25.  Spots are already filling up; we are currently booking for the first week of November.  Products must be received by December 23 for inclusion in the gift guide.    Read the submission guidelines below to see if your product fits the needs of my readers.

The Holiday Gift Guide is a product feature, not a review.   The product will be displayed on Savings in Seconds as an unopened package in order to be more authentic for Christmas gift giving.  My Gift Guide includes family-friendly products only.  In other words, I should be able to open your product in front of my children without blushing.
Items are accepted for the following categories: Babies, Kids, Teens, Adults, Pets, Whole Family, Special People (postal carrier, teachers, babysitter, etc).
Fashion, beauty, toys, food items, and household items are all great ideas.
The minimum value for individually featured products is $25; for stocking stuffers, $15.  If needed, you may send multiple items to reach that product minimum.  Products of lesser value are still accepted; however, they may be grouped into a themed post called a "roundup."  All products are non-returnable.
As a Holiday Gift Guide sponsor, you will receive:
Placement on the Gift Guide, linked to a featured post including 2 nofollow links
One Facebook post
One tweet
One pin
In addition, you may also include a giveaway with your post.  This service provides more exposure for your brand, and encourages readers to interact with the brand social media.  We use Giveaway Tools as an entry form which makes it easy for readers to create buzz for YOU!  As the sponsor, you'll ship the prize directly to the giveaway winner.  Giveaways are also included in our weekly email newsletter.
Ready to get started?  Let's get your post booked! Email me or fill out the form below.