Disclosure: I received this book in exchange for an honest review. Post contains affiliate links; opinions shared are mine.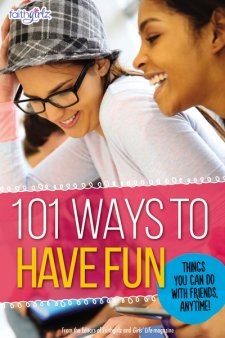 Summer has a way of creeping up on us, doesn't it? Then it just creeps right on by, and before we know it — it's time to head back to school!   My kids tend to gravitate toward screens and other electronics when we're lazing around the house.  The book 101 Ways to Have Fun gives some great activity suggestions for kids of all ages and genders!  It's worth keeping a copy of this book around the house. 
The activities in the book range from very simple to rather complicated.   Each option has a materials list pictured on the page, so that kids can replicate the activity at home.  I love the DIY ideas — they encourage kids to repurpose items such as bobby pins and nail polish.  Whether kids take the tips individually or as an agenda for a sleepover, the activities in 101 Ways to Have Fun are completely do-able by just about anyone.  The color pages are visually appealing, and the sidebar tips are sure to be an inspiration to anyone who flips through this book!
The only bone I have to pick with this book is that there is limited diversity shown in the pictures.  While there are lots of girls of color and a variety of ethnic backgrounds, that's the limit of the differences.  I'd love to see images of plus-size girls, those with special needs, and even some more photos of boys.   Where are the kids wearing braces, or those with a bad case of acne?   Kids of all shapes, sizes, and lifestyles should be included in this book.